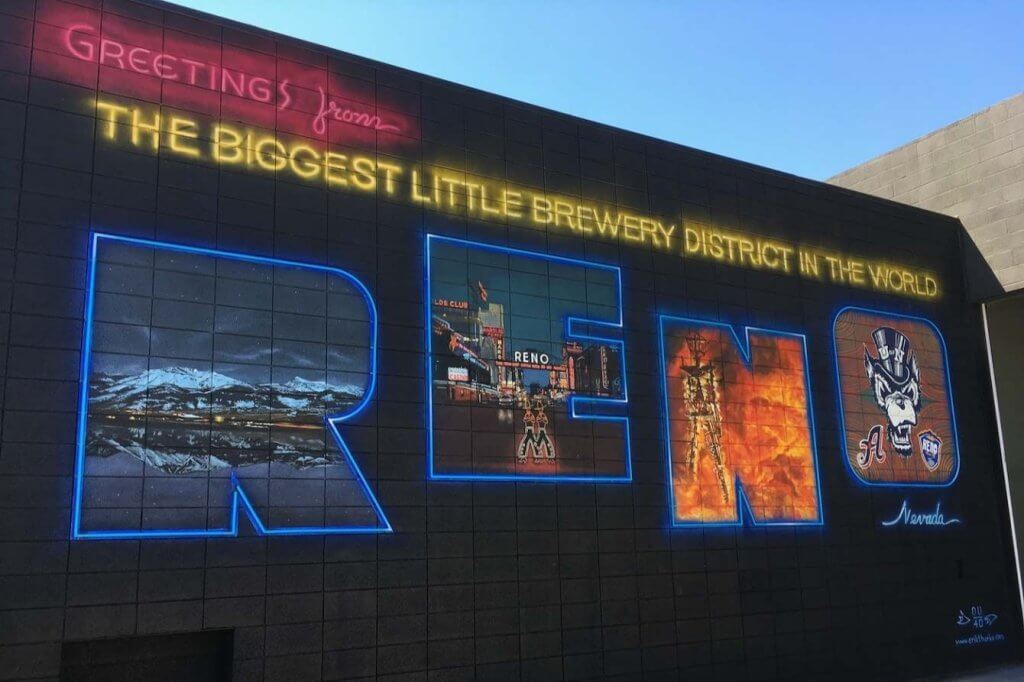 Craft Beer Reno Is Unique
Yes, there are places developed around specific interest; art  is one that comes to mind.  Other cities have also focused on areas to promote the community that is inherently felt amongst Craft Beer enthusiasts.  The Brewery District in Reno comprises 4th Street and part of 5th Street having 7 breweries-could be a few more if we want to stretch the border.
The unique feature of 4th Street is: 1. It's very unique history (read below), and 2. The ability to walk between breweries.
Craft Beer is a beverage that bespeaks: community, conviviality, and entertainment.
As a product Craft Beer is very complex to produce, it takes a great deal of time,  and craft beer is known for use of high quality ingredients. Interestingly, these brewers do explore new recipes and techniques. Who wants -same ole beer?
We have given you the 7 breweries in a defined area and encourage you to explore local.
The Beginning of The Craft Brewery District
The following information is from the virtual tour of Historic East 4th Street on Reno Historical. A great deal of research and curating is required to bring history to life. Visit-Reno Historical at: https://renohistorical.org/tours/show/7)
From manufacturing to tourism, railroads to restaurants, East 4th Street has played an important and multifaceted role in the history of Reno for more than a century. 
First operating as a county road populated by isolated industries, scattered homes, and an early streetcar line to Sparks, East 4th Street profited by its proximity to the railroad and to Reno's commercial core. In 1913, the creation of the Lincoln Highway Association led to the designation of 4th Street as the route of the transcontinental highway, and later, the Victory Highway, which also ran through town.
Renamed U.S. 40 in the late 1920s, the former Lincoln Highway remained the primary east-west route through Reno until the completion of Interstate 80, three blocks to the north, in 1974. In recent years, the street has been experiencing a renaissance, infusing new energy into a corridor whose heritage is largely unsurpassed.
Keep exploring Reno Historical to discover more historic sites along this corridor.
The following is an entry from Reno Historical, for more information on the Reno Brewing Company visit (https://renohistorical.org/items/show/83). 
"Reno need no longer send east for lager," rejoiced one of the local papers upon the opening of the Reno Brewing Company in 1903. Located on the corner of E. 4th and Spokane Streets, the new company joined a number of existing breweries in Reno including the Buffalo Brewing Company, Riter's Elite Steam Beer, and the Wieland Brewing Company.
The new business was founded by a trio of men in their thirties. Master brewer Jacob Hook had immigrated to the United States from Germany in 1886, while John Maurer and Peter Dohr were second-generation Germans originally from Wisconsin who moved to Reno from Montana. Their raw materials–corn, malt, and hops–were brought into town by rail, and an electricity-powered ice plant on the premises chilled the barrels in a vast refrigerator room.
By 1907 the successful company boasted a new five-story brick "annex" and produced three varieties of beer: Sierra Beer, Malt Rose, and Royal Lager. It was soon the largest brewery in the state, shipping its product from the nearby railroad tracks and delivering locally in the company's signature trucks.
As the tee-totaling temperance movement gained momentum, the company began to promote its beer as a healthy, even medically beneficial, beverage. Unlike many of the state's other breweries, which shut down permanently during Prohibition, the Reno Brewing Company sailed through by cleverly redirecting its equipment to manufacture near-beer, soda water, seltzers, tonics, and fruit-flavored soft drinks.
In the 1930s, the brewery began to produce a beer called One Sound State, a reference to Nevada's campaign to entice prospective residents with its favorable tax climate. With the repeal of Prohibition in 1933, demand for the company's beer soared higher than ever, and in 1940, the company constructed a new bottling plant next door, which still stands today. A 380-foot well provided direct access to the water used in production.
The beer business soon changed, however, as a few national brands like Anheuser Busch began to dominate the industry, squeezing out smaller producers. After entering into an ill-advised financial arrangement with eccentric local millionaire LeVere Redfield, the Reno Brewing Company was forced to stop brewing in 1957. The company's assets were sold, and the building was acquired by Joseph Hobson of the Frontier Land & Cattle Co. The building was demolished in 1959, reportedly to make way for a projected casino that was never built.